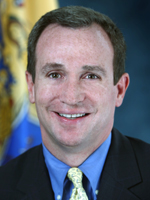 Thomas B. Considine is a proven insurance & healthcare c-suite executive, as well as a former NJ state financial services & managed care commissioner with a broad understanding of issues from the business, legal and regulatory perspectives.
The National Conference of Insurance Legislators (NCOIL) established the new position of Chief Executive Officer and named Considine to it effective January 1, 2016.
Considine also serves as Principal and Managing Member of Gravilaur Solutions, LLC, an organization that provides strategic, operational and regulatory consulting to a number of business associations, health plans, hospital systems, insurance companies and others.
Prior to Gravilaur, Considine served Meadowlands Hospital Medical Center as its President and Chief Executive Officer (CEO). In that position, he was responsible for the overall operation and oversight of the facility and sat on the hospital's board of directors.
He joined Meadowlands following a successful tenure at MagnaCare, a regional health plan where he served as Chief Operating Officer (COO). While at MagnaCare, he also instilled a culture of accountability and improved performance management across the entire organization that prepared the company for sale to a major investment bank at a remarkable return to the prior ownership group.
Considine also served as the New Jersey Commissioner of Banking and Insurance under Governor Chris Christie. In addition to serving as the primary advisor to the Governor on issues related to banking, insurance, real estate and managed care, Considine brought about seismic change in the 527-member department while fostering a regulatory culture that promoted growth all in the face of budgetary adversity. He repealed 21 burdensome regulations while improving efficiency across operating units. He championed a sweeping reform of the state's PIP system, and successfully led the state through reaccreditation by State Banking (CSBS) and Insurance (NAIC) organizations. Considine's NAIC peers elected him to the organization's Board of Directors, as well as a member of its Executive Committee and as Chair of its Northeast Zone.
Prior to his service to New Jersey, Considine spent 17 years at MetLife in positions of increasing responsibility. At the time he departed to join the NJ Cabinet, he served as Vice President & Government Relations Counsel responsible for state government relations and public policy throughout the US.
Considine holds a JD cum laude from the Seton Hall University School of Law, and a BS magna cum laude degree from the Stillman School of Business at Seton Hall University, where he received the Outstanding Alumni Service Award in 2012. He also holds postgraduate certificates from Northeastern and the Harvard Business School.
In 2013, he was recognized as one of the top 100 lawyers of Irish-American descent in the United States, as well as named to "Who's Who in the World". PolitickerNJ.com ranked him No. 28 on its "Health Care Power List 2014" and NJBIZ magazine named him #3 of the Most Powerful People in New Jersey Healthcare in 2011, and #10 in 2010. It also recognized him as the #10 Most Powerful Person in New Jersey Banking in 2010. A Hudson County, NJ native, he resides in Monmouth County, NJ, with his wife, Anne, and their two children.